Bonjour à vous, nouveaux utilisateurs de la Plateforme de Redevabilité Sociale du Secteur Minier du Cameroun ! (English below – scroll down for english)
Saviez-vous que ce site vous permet de publier vos propres questions et/ou plaintes (Q&C) en relation avec le secteur minier du Cameroun, et de les envoyer directement au PRECASEM ? Pour ce faire, rien de plus simple ! Suivez les quelques étapes suivantes.
Une fois sur le site, cliquez sur le bouton JAUNE "Post", en haut à droite :
Une fenêtre s'ouvre. Cliquez sur "Questions & Plaintes"
Vous êtes redirigé sur le formulaire des Questions / Plaintes. Remplissez tous les champs puis cliquez sur "Envoyer" pour envoyer votre Q&C au Modérateur. Après révision, votre Q&C sera publiée. Vous pouvez aussi cliquer sur le bouton bleu "Ajouter un lieu" puis cliquer sur la mini-carte pour géolocaliser votre Q&C, ou encore télécharger des documents en support de votre demande.
Une fois votre Q&C complétée, vous pouvez voir les documents téléchargés et la géolocalisation comme suit. Pour changer la localisation en cas d'erreur, il suffit de cliquer à nouveau sur "Ajouter un lieu" puis sur la carte. Vous avez aussi la possibilité de sauvegarder votre travail pour plus tard en cliquant sur "Brouillon"
Vous pouvez toujours accéder à vos Q&C publiées ou sauvegardées à partir de votre profil (voir exemple ci-dessous), où vous pourrez voir le statut de chaque Q&C. Pour accéder à votre profil : cliquez en haut à droite sur le bouton vert rond puis sur "Mon Profil" dans le menu déroulant.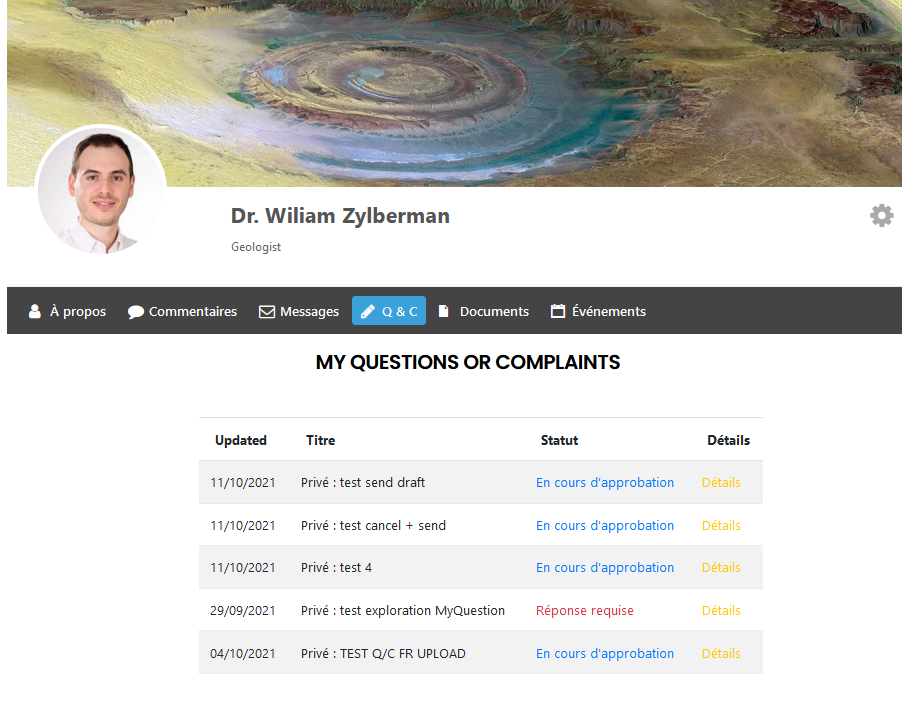 Conseils: en sélectionnant "Public" dans le questionnaire Q&C, vous signifiez au PRECASEM que vous souhaitez que votre Q&C apparaisse publiquement. Si PRECASEM approuve, votre Q&C apparaîtra dans la liste publique des Q&C. Notez que PRECASEM se réserve le droit de garder votre Q&C privée. Si néanmoins vous souhaitez que la Q&C soit privée quoi qu'il arrive, cochez la case correspondant et votre Q&C ne sera pas affichée publiquement.
Au cas où vous l'auriez manqué, vous trouverez ici le premier tutoriel expliquant comment poster vos propres documents et événements sur le site.
Nous vous souhaitons un bon moment sur Precasem.cm !
L'Équipe PRECASEM
---
Hello to you, new users of the Cameroon Mining Sector Social Accountability Platform!
Did you know that this site allows you to publish your own questions and/or complaints (Q&C) related to the mining sector in Cameroon, and to send them directly to PRECASEM? To do so, nothing could be easier! Just follow these few steps.
Once on the site, click on the YELLOW button "Post", in the upper right corner:
A window will open. Click on "Questions & Complaints" :
You are redirected to the Questions / Complaints form. Fill in all the fields and then click "Submit" to send your Q&A to the Moderator. After review, your Q&A will be published. You can also click on the blue "Add a location" button and then click on the mini-map to geo-locate your Q&A, or upload documents to support your request.
Once your Q&A is complete, you can view the uploaded documents and geolocation as follows. To change the location in case of error, simply click again on "Add a location" and then on the map. You also have the option to save your work for later by clicking on "Draft".
You can always access your published or saved Q&C from your profile (see example below), where you can see the status of each Q&C. To access your profile: click on the green round button in the upper right corner and then on "My Profile" in the drop-down menu.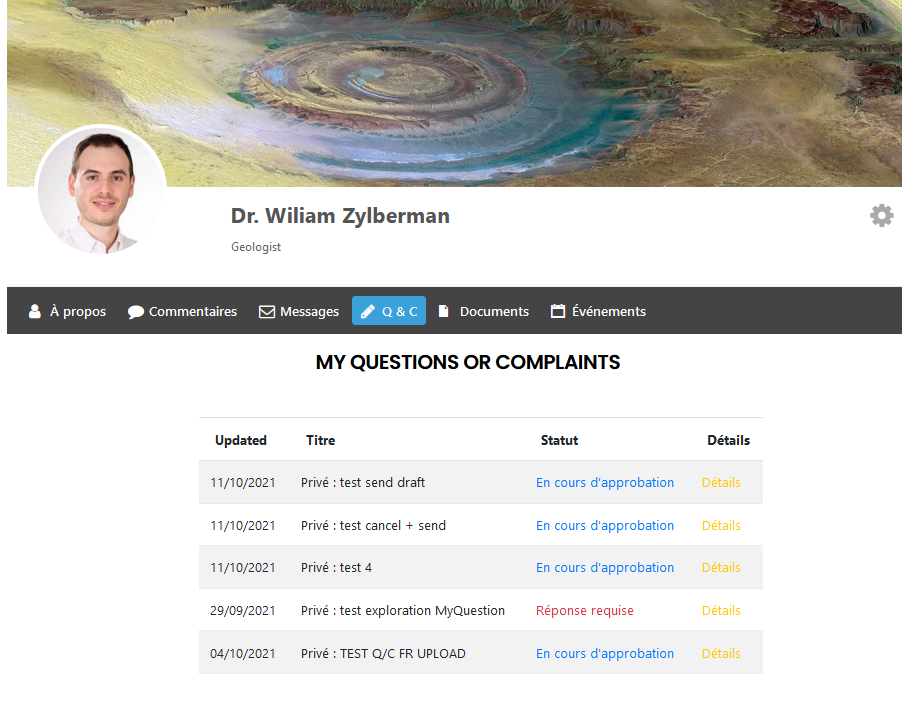 Tips: by selecting "Public" in the Q&A questionnaire, you are telling PRECASEM that you want your Q&A to appear publicly. If PRECASEM approves, your Q&C will appear in the public list of Q&Cs. Note that PRECASEM reserves the right to keep your Q&C private. However, if you want the Q&C to be private anyway, check the box and your Q&C will not be displayed publicly.
In case you missed it, you can find the first tutorial on how to post your own documents and events on the site here.
We wish you a good time on Precasem.cm!
The PRECASEM Team